| | |
| --- | --- |
| | Welcome to Weather Wiz Kids®. I'm meteorologist Crystal Wicker. I designed this website especially for kids to allow them to learn more about the fascinating world of weather. It's also a wonderful educational website for teachers and parents to give them the right tools to explain the different types of weather to children. |
Meteorology - The science that deals with the phenomena of the atmosphere, especially weather and weather conditions.

________________________________________________________________
WEATHER HEADLINES

Days of heavy monsoon rains in western Nepal and northern India has set off landslides that swept away houses. It has been raining in the region since Thursday, August 14th, displacing thousands in the Himalayas, making roads impassible and stranding people in their flooded homes. Highways and roads were either flooded or blocked by landslides in the western part of Nepal, stopping rescuers from reaching remote villages where over a thousand people were thought to be stranded. The army was able to rescue about 300 people on Saturday, but poor visibility hindered helicopter rescue efforts. Trucks loaded with emergency supplies, food, tents and plastic sheets were being sent to the flooded area, but their reach was limited by the blocked roads. The rainy season in South Asia runs from June through September.
Be sure to always have survival kits in your home and car.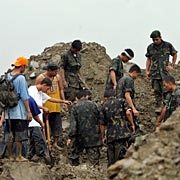 If you're a fan of Weather Wiz Kids, then check out my other website, ExploringWeather.com.