| | |
| --- | --- |
| | Welcome to Weather Wiz Kids®. I'm meteorologist Crystal Wicker. I designed this website especially for kids to allow them to learn more about the fascinating world of weather. It's also a wonderful educational website for teachers and parents to give them the right tools to explain the different types of weather to children. |
Meteorology - The science that deals with the phenomena of the atmosphere, especially weather and weather conditions.

________________________________________________________________
WEATHER HEADLINES

A huge wildfire in Northern California kept nearly 3,000 people from their homes. While officials confirmed that several structures have been damaged or destroyed in the King Fire, dangerous conditions have so far prevented them from determining an exact number or how many of them were homes. The fire some 60 miles east of Sacramento grew to more than 128 square miles Saturday, September 20th. The blaze began one week ago, and a man accused of starting the blaze is being held on $10 million bail. It is just 10 percent contained. More than 5,000 firefighters, from as far as Florida and Alaska, are helping California crews battle the blaze that has not only consumed grass and brush, but swaths of extremely dry tall timber.
Be sure to always have survival kits in your home and car.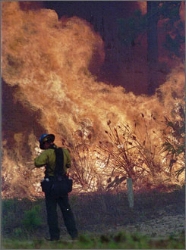 If you're a fan of Weather Wiz Kids, then check out my other website, ExploringWeather.com.