| | |
| --- | --- |
| | Welcome to Weather Wiz Kids®. I'm meteorologist Crystal Wicker. I designed this website especially for kids to allow them to learn more about the fascinating world of weather. It's also a wonderful educational website for teachers and parents to give them the right tools to explain the different types of weather to children. |
Meteorology - The science that deals with the phenomena of the atmosphere, especially weather and weather conditions.

________________________________________________________________
WEATHER HEADLINES

A new storm brought heavy rain to parts of California causing flooding and mudslides. Downtown Los Angeles tallied 4.34 inches of much-needed rain. This same weather system is bringing snow to the Midwest and Northeast. Snowfall from the cross-country storm will exceed 1,500 miles on its journey. Along that journey, more than 6 inches of snow will occur along the Ohio River and just south of the I-70 corridor from Kansas City, Mo., to St. Louis to Cincinnati, to Clarksburg, W. Va., to Harrisonburg, Va., to Washington, D.C., to Philadelphia and Trenton, N.J.
Be sure to always have survival kits in your home and car.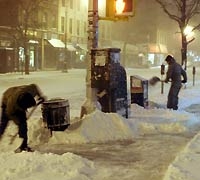 If you're a fan of Weather Wiz Kids, then check out my other website, ExploringWeather.com.